RuSteD ROM Hacks presents...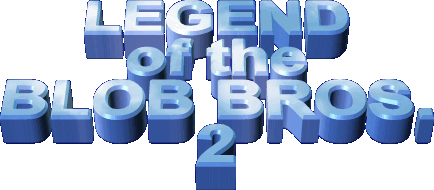 ©2002 BMF54123
Original "Super Mario Bros. 2" program and audiovisuals ©1988 Nintendo
Sections
About
Story
Characters
Items
Worlds
Tips & Hints
Credits
Downloads
v2.0 Final
v2.0 Demo
readme.txt
Over 4 years in the making, Legend of the Blob Bros. 2 is the largest Super Mario Bros. 2 hack ever completed. Featuring all-new graphics, longer and more difficult levels, and even a few ASM hacks to add special effects and tweak gameplay, it's an epic adventure you'll never forget!

Before heading off on your adventure, please review the information in the sections listed to the left. You'll learn all about the four heroes and their individual abilities, the various regions of Blobaria you'll visit during your travels, and the useful items scattered about each one.

Good luck, brave adventurer!
---
jump to: home - hacks - comics - other - forums - links

---
All pages ©

Robert Flory (BMF54123) unless otherwise noted.